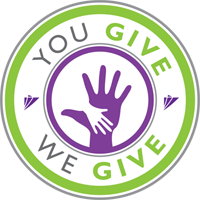 'You Give, We Give' (YGWG) is a pioneering initiative providing clients with a unique alternative to raising funds for their favourite cause. Since we launched the scheme in 2014, we have donated over £110,000 to a variety of charities.
YGWG provides General Investment Account (GIA) and Individual Savings Account (ISA) clients with the opportunity to donate up to 20% of the annual profit from their investments to a charity of their choice. What's more, TAM will also donate an equal percentage from our total annual fees.
Financial advisers can also support their clients' chosen charities by donating an equal percentage of their total ongoing adviser fee, they just simply tick the relevant box in the application form and we take care of the rest.
How It Works
YOU GIVE
The client decides what percentage of their annual portfolio gain to donate to charity when opening their account.
WE GIVE
TAM will donate an equal percentage from our total annual fee.
TO A CHARITY OF CHOICE
The client's chosen charity will receive their donation, TAM's donation and even more from HMRC Gift Aid.
The Benefits
CHOICE
Clients can choose any UK registered charity to receive a donation.
SIMPLICITY
A clear and convenient application and donation process.
PARTNERSHIP
Increased donations through shared support from TAM.
GIFT AID
Gift Aid registered charities can increase client donations by 25% so long as the client is happy for us to provide the charity with their details.
FLEXIBILITY
At any time, clients can change their charity of choice, the percentage they give or opt out completely.
TRANSPARENCY
We will write to clients each year clearly outlining; the calculation, the payment and confirmation of the donation and with their prior approval, their chosen charity will receive the appropriate details to claim Gift Aid.
Getting Involved
The YGWG application form can be can be downloaded here.
Our Charity Partners
If clients would like to participate in YGWG but do not have a favourite charity in mind, we offer the selection of one of our TAM charity partners.
We work with a wide variety of charities across the UK and together, we are continuously thinking of fresh and exciting ways to engage new supporters and raise vital funds for their causes.
Just click on the charity below to find out more about who we support and the incredible work that they do.